In the Current - 時の流れに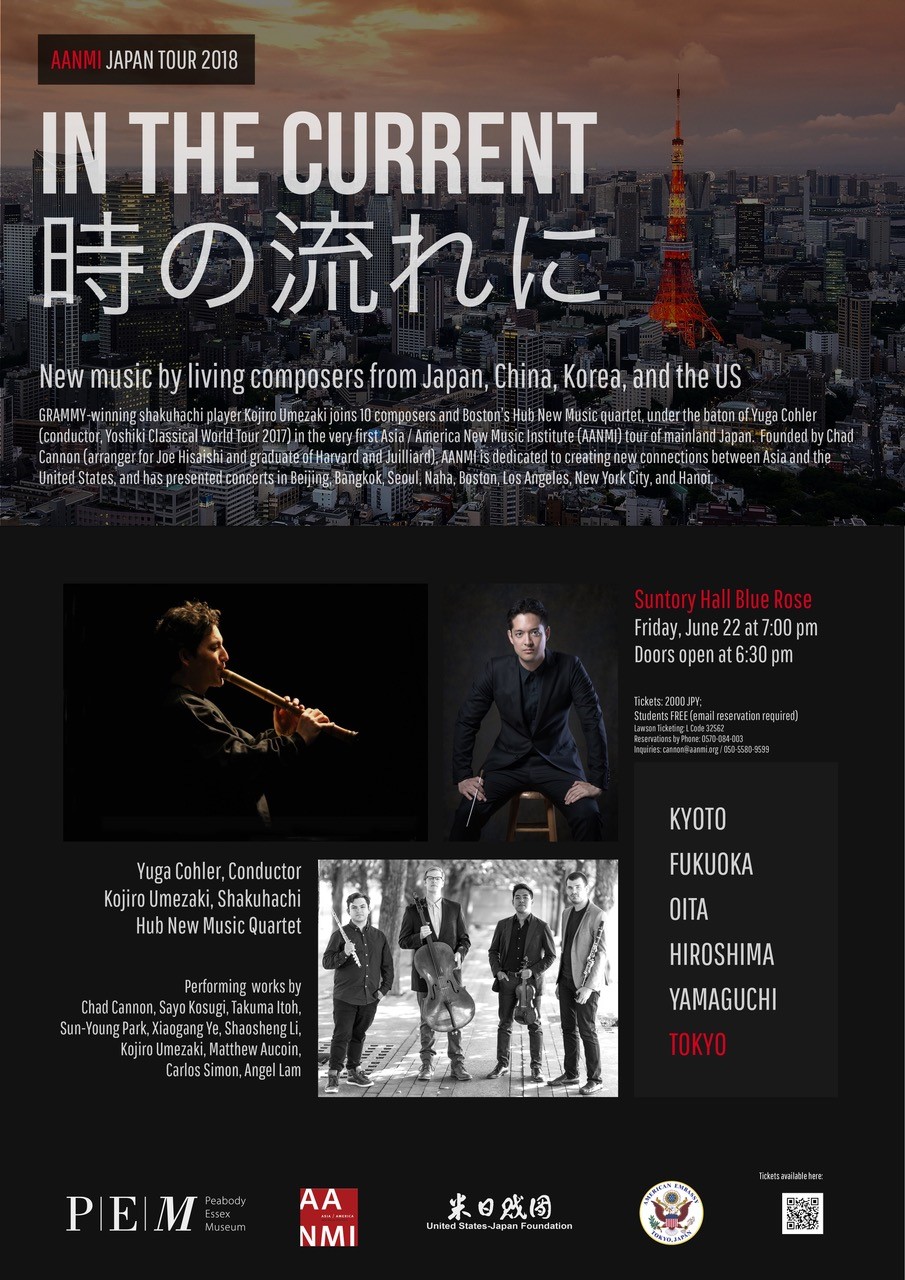 Suntory Hall Concert With New Music Composers from Japan, China, Korea, and the United States
Organized by Asia America New Music Initiative founder, Chad Cannon, Harvard '11
Grammy-winning shakuhachi player Kojiro Umesaki joins 10 composers and Boston's Hub New Music quartet, under the baton of Yuga Cooler (conductor, Yoshiki Classical World Tour 2017) in the very first Asia / America New Music Institute (AANMI) tour of mainland Japan. Founded by Chad Cannon (arranger for Joe Hisaishi and graduate of Harvard and Juilliard), AANMI is dedicated to creating new connections between Asia and the United States, and has presented concerts in Beijing, Bangkok, Seoul, Naha, Boston, Los Angeles, New York City, and Hanoi.
This Japan countrywide tour, in partnership with the Peabody Essex Museum, United States Japan Foundation, and American Embassy Tokyo, will feature a series of concerts throughout Japan, including highlight performances at Nijo Castle in Kyoto (World Heritage Site) on June 11, Kyoto National Museum on June 13, Dazaifu Tenmangu (World Heritage Site) and Kyushu National Museum on June 16, charity performance for flood victims in area at Ryusenji in Hita on June 17, Hiroshima on June 19, Iwakuni on June 20, and will culminate in a final performance in Tokyo on June 22 at Suntory Hall.
For details on all performances: https://we.tl/xGfpTJf57S
---
---
Tokyo Performance Details
Date/Time: June 22 (Friday) at 7:00 p.m., Doors Open at 6:30 p.m.
Tickets: 2,000 JPY; Students FREE (email reservation required)
http://l-tike.com/order/?gLcode=32562
Venue: Suntory Hall Blue Rose
Inquiries: cannon@aanmi.org
About AANMI: http://www.aanmi.org/