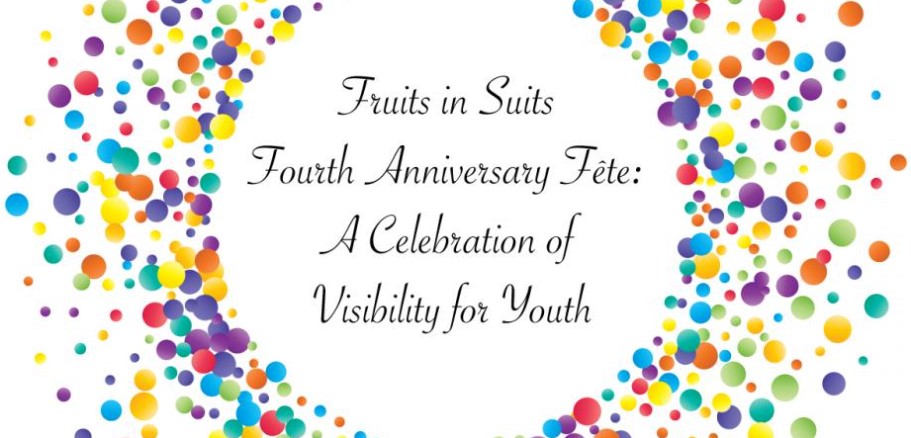 Fruits in Suits Japan 4th Anniversary Fall Fete - Visibility for Youth
EVENT OVERVIEW
With the support of the French Embassy in Tokyo, Fruits in Suits (FinS) will hold its 4th Annual Anniversary Fete on Friday, November 16, from 18:30 p.m., at the Auditorium of the Institut Francais du Japon.

Inform, Unite, Change: Come join us for an exciting celebration of the connections and stories of courage and authenticity from the role models and leaders who form the rainbow backbone of our LGBT+ communities.

Connecting our young people: Leading the future will be our young people. Inspire and empower them well, and let them lead the way. This is why, this past year, we at FinS launched Fruition, our premiere LGBT mentoring program to empower young people to live authentically and find power in their differences. Fruition serves our organization's vision to connect people – especially the young with positive role models who will inspire them to lead. In collaboration with Job Rainbow, we will also invite over 15 students and recent graduates from the Tokyo area to attend and hold a candid Q&A with our panelists and invited guests.

Recognizing our Change Agents: As with every year, we will also award the Japan Pride Award to two special people—this year's recipients are visible young people who are making significant strides for the advancement of LGBT+ community.

Tickets available by registration only: Regular admission (adults 28 and older) 10,000 yen; young adults (27 and under) 5,000 yen. Students 2,000 yen

Registration: https://peatix.com/event/448680

Please contact FinS Director Loren Fykes for more information: loren@fruitsinsuitsjapan.org

For more information about FinS activities, visit the website at: https://www.fruitsinsuitsjapan.org/home-1/

Schedule:
18:15 Registration and welcome drink (At the café)
19:00 Opening remarks (Auditorium)
19:10 Special guest speaker presentations (Auditorium)
20:00 Panel discussion (Auditorium)
20:30 Dinner and networking (Brasserie)
22:00 Closing

Panelists:
Mr Kento Hoshi, CEO of Job Rainbow, LGBT recruitment services. Forbes Asia 30 Under 30.
Mr Shigeyoshi Suzuki, elementary school educator, public school system.
Mr Fujiwara Kazushi, YouTuber, LGBT activist.
Ms Kanako Otusji, member of the House of Representatives for the Constitutional Democratic Party.
Mr Soshi Matsuoka, Founder of NGO Fair.
*Simultaneous interpretation will be available